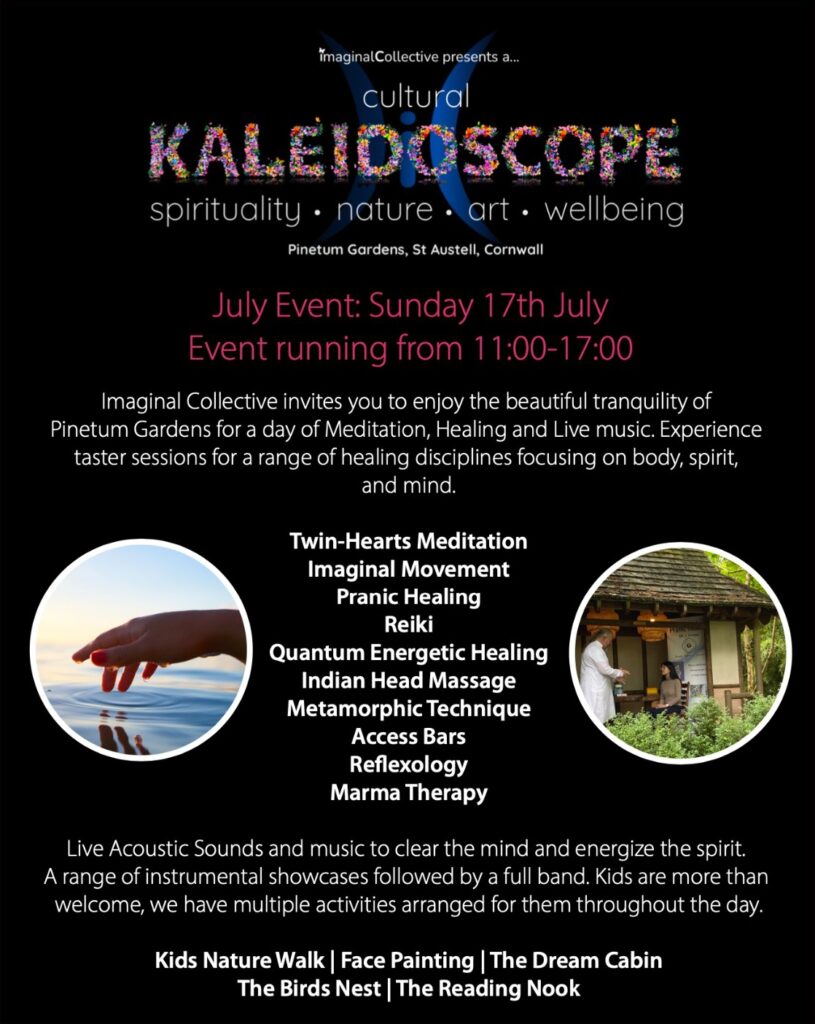 Price and Booking
Saturday evenings (6pm – 9:30pm): £10
Please book via eventbrite using the following button…
Introducing the Practitioners
Ayurveda Marma Massage Therapy by Premdevi
Marmas are closely linked to the three doshas in Ayurveda, which we know as Vata, Pitta and Kapha. These are the energies that Ayurveda believe reside within the body.Working on specific Marma points can help bring balance back to any imbalances within the doshas.
Hi, I'm Premdevi and my passion is to share my knowledge and experience with all who are seeking holistic wellbeing. My services include Holistic & Ayurvedic Therapies, Yoga teacher and Ayurvedic Diet and Lifestyle Consultant. For this event I will be offering taster sessions for Ayurveda Marma Massage therapy
Ayurveda is the science of life and Marma massage therapy is the practice of healing energy by treating specific points on the body. By accessing these specific points, we can release blocked energies which in turn help with self-healing, relaxation andrejuvenation bringing harmony and balance back to the body and mind. 
Today I will be offering taster sessions with oil. Options are hands & arms / face or scalp.  The treatment is unsuitable for pregnant ladies.
Wendy Rowe
I set up Rowesy therapies two years during lockdown as it had always been a dream for me to practice therapies. With the death of my father in 2019, I thought if I don't do it now, I may never, so I made the leap! What's the saying.. if not now.. when. Originally I was working full-time with another job but i have now reduced my hours to build up my practice, as this us what brings me joy, helping others and seeing the difference therapies can make.
 
The name Rowesy is a tribute to my late father as he was always very proud of his name, my partner calls me Rosie too, who has been extremely supportive of me over the year, so it seemed quite fitting to name the business "Rowesy"
 
I have focused on providing reflexology, Indian head, reiki and essential oil blends as I believe all of these can help assist the body in creating a sense of wellbeing and healing. These work, not only on physical ailments but also mental, emotional and spiritual levels. I find a combination of these work well too, so I very often offer one therapy and can add some reiki and maybe a blend along with it. 
 
All treatments are holistic and begin with the individuals needs, and so no one treatment is the ever the same. I believe this is very true for essential oils too, and again I  also work on a totally individual basis here, and so I only offer bespoke blends as I find "one blend does not fit all!", as some may claim. 
Therese Cooklin
Therese is a qualified Pranic Healer using energy and crystal healing to treat physical, emotional and psychological conditions. Pranic Healing is a highly developed and tested system of energy treatment that uses prana (the sanskrit word that means life-force) to balance, harmonize and transform the body's energy processes. This invisible bio-energy or vital energy keeps the body alive and maintains good health.
Nancy Finch
Reiki Master
IIHHT Body Massage Certificate
IIHHT Diploma in Aromatherapy
IIHHT Diploma in Reflexology                                                                      
IIHHT Diploma in Indian Head Massage
Diploma in Anatomy and Physiology
 G.C.S.E in Psychology
Teacher of Reiki at St Austell College
Member; International Council of Holistic Therapists
  Youtube ; Nancy Finch
  "food for thought"radio interview.March 2014
Complementary Therapist of the Year 
St Austell College 2000/2001 and Nominated for "Transforming lives award "2015
www.nancyfinch.co.uk
Facebook;   Nancy Finch saint Austell
 
Offering Reiki treatments that help to heal and restore the body.
Colour card readings that show how you are feeling on a physical and emotional level
Chakra balancing 
Emotional exercises to help maintain wellbeing
Simon Nowell
Simon Nowell, a Pranic Healing therapist and Arhatic yogi for 15 years, will be offering consultations in the Japanese Garden. There is no charge but donations will be appreciated.
The word 'Prana' means life's energy, the Chinese translation is 'Chi'.
Pranic Healing is a highly evolved and tested non-touch complementary therapy. It is used to heal a wide range of physical and psychological ailments. This system can enhance any area of your life. It is highly systematic and scientific in its approach, which distinguishes it from other healing therapies. Pranic Healing is a simple yet powerful and effective system that works on the principal that the body is a self healing organism.
We all live busy lives and a condition or ailment can arrive through certain patterns, lifestyles and psychological changes. By using specific techniques for those ailments or conditions the pattern can be reversed and the body is able to heal itself.
It is an incredible technological breakthrough in the science of healing. Many professionals including the medical profession, psychologists, therapists, families and business professionals are now utilizing Pranic Healing alongside orthodox medicine to help enhance every area of their lives.
The Venue, Pinetum Gardens
Visit the Pinetum Gardens website here
Directions and contact details…
Pinetum Gardens
Holmbush Rd, Holmbush,
Saint Austell PL25 3RQ
You can find Pinetum's contact details and a map for directions here