imaginalCollective completes its second Cultural Kaleidoscope.
"We have been delighted by the feedback we have had in response to our 'Cultural Kaleidoscopes'. These productions take a whole lot of organising and preparation. They are, however, essential for meeting our own objectives of the Imaginal Collective in building a community that is connected both with each other and with nature." said Simon Nowell the producer of the Cultural Kaleidoscopes. He continued: "We all know how fast Global Warming is moving given the flooding in London, Europe and China and the heatwaves in the USA and Russia. We all also know that Global Warming will doubtless change our lives significantly. This is the reason we have set up the Imaginal Collective, to allow us to approach these necessary changes with love and joy. Change doesn't have to be bad, but it is necessary! The ImaginalCollective is partly about education but it is all about connection. There is very little chance we can save ourselves from Global Warming without having a strong connection with Mother Earth. It could be argued that our lack of connection with Mother Earth is the reason we are experiencing the problems we have today."
I just want to say a big thank you to the imaginalCollective for an evening that will never be forgotten. Firstly, the Pinetum Gardens in St Austell is already a truly beautiful space; a real sanctuary but what you manifested within that space was truly magical. The opportunity to meditate in such a peaceful place was in itself wonderful but the journey you took me on after exceeded all of my expectations. The deeply moving cacao ceremony and subsequent guided journey through this wonderful garden was truly inspirational and the secret soundscape was enchanting. I left feeling inspired and deeply moved by the authenticity and sincerity of the evening; under a full moon amongst the trees and animals and in good company, it was a feeding of the soul and heart and I feel very privileged to have experienced what had obviously been curated with great care and love. Thank you so much. It was inspirational.

Martin, St Blazey.
Richard Good, the Director of the Cultural Kaleidoscope, explained the event in more detail. "It is quite simple really, we have 'connection' as a theme for our events. The starting meditation allows you to connect with yourself, the Cacao ceremony opens the heart further so the entire group connected with each other and we finished with a Nature Walk around the beautiful grounds of Pinetum Gardens where everyone could connect with Nature culminating in a 3D soundscape: 'the Garden of Unearthly Delights' (by sound artist Gus Leudar) where amongst other fabulous sounds a flight of surreal butterflies seemed the pass through your chest!" It all seemed like a lot of effort for the word 'connection' but Richard responded passionately: "Connection is not something that is an academic concept, connection is something that is felt, viscerally. And, in this, our events are a success! People left with a sense of wonder; magic really did happen here and we demonstrated that and explained what it looked like; this cannot happen without deep connection. Deep connection is, in one way, a very natural human ability, those of us who have fallen in love recognise it immediately but that wider, deep connection is now much harder for us to achieve mainly because we have become completely disconnected with nature. These events our part of the imaginalCollective's work in the local community in St. Austell to bring that connection to Self, each other and nature to everyone." Richard was asked about how he got people to feel this 'connection'. He replied: "Sadly, it is our birth right but most don't tend to use or feel it anymore. This lack of connection to the natural world is probably the reason that we treat Mother Nature with such little regard and this leads to the problems we are seeing with the climate right now. The people in the imaginalCollective and those few we invited in to help us have all spent decades relearning and reconnecting with Nature; they are very remarkable people who know how to share this ability with others. This is why people find our Cultural Kaleidoscope's such a magical experience!"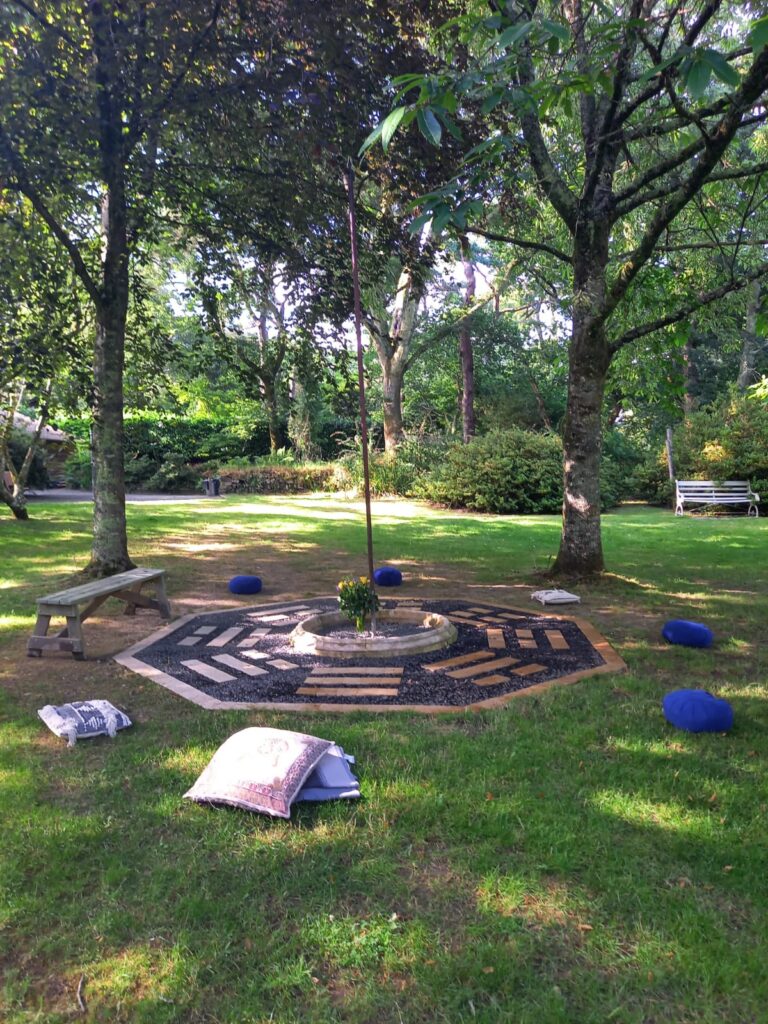 "We plan to do one more at the end of August." He said, "all the Kaleidoscopes are different, for the next one we plan to let music do all the talking while people visit Pinetum Gardens. I am already very excited, who wouldn't want to dance the evening away, outdoors in one of the most beautiful places in the country? We will let you know more details soon!"
"This was my 1st but definitely not my last encounter with the imaginalCollective Kaleidoscope event that was truly magical. From the beginning to end it was an array of wonder and enchantment. Beautiful souls delivering experiences from the heart of our connection to Mother Earth and each other. Listening in wonder and connecting in union.

All set in the beautiful and tranquil Pinetum Gardens, where there were an array of gifts of mother nature herself along with the encouragement of the sharers knowledge to move around and look deeper within. The evening opened with a heartfelt Meditation, and continued with an array of wonder. A Cacao ceremony, drumming meditation, guided walks around the gardens with hidden treasures to be found and sacred experiences to be felt, a beautiful soundscape in a secret garden that took you back to the hidden depths of the jungle, all gathered and concluded around a sacred fire.

The imaginalCollective are beautiful souls bringing awareness, joy and grace into our lives. It was an honour and privilege to have been part of the experience and I will most definitely look forward to the next Kaleidoscope event."

Premdevi, Cornwall
"For those who want to connect with your inner Self and Mother Earth's natural beauty, then I recommend you attend an imaginalCollective event. Saturday 24th July's Cultural Kaleidoscope was truly unique. Words cannot describe the experience because it touched us all on so many different levels. 3 elements to capture my experience were; grounding, heart opening and an invitation to explore my spirituality further. I can't wait for their next event."

Therese, Cornwall.
"I attended my second event organised by imaginalCollective at the lovely Pinetum Gardens in St Austell. Each time I have been inspired and awed by the sheer creativity gone into each event. Everything was well organised and flowed smoothly. There was a sense of fun and joy, of learning and playfulness within the activities, and at the heart of it there was the important message about environment and nature, that can't be summed up in words, but can be experienced. That's what we got from this; a powerful and uplifting experience.

Thank you."

Ida, Truro